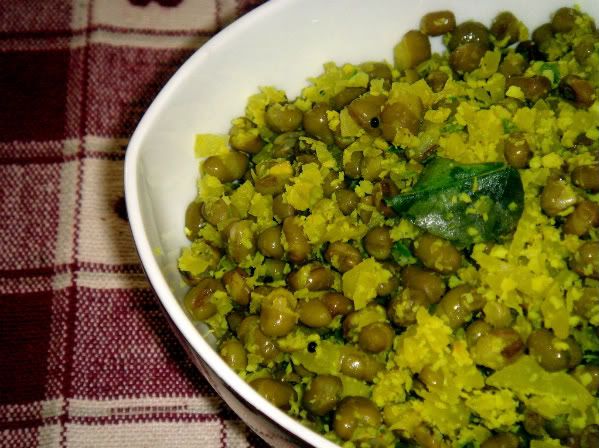 The incessant rains have stopped and the climate here is pleasant. With a pleasant weather and an urge to make one among the many of my comfort food, I set about doing just that... The comfort one here being a thoran that contains pacha payar (mung bean) thoran. I love mung bean with anything..Just off the cooking pan is what I like the best. Normally when I make thoran using payar, it always has either cabbage, cauliflower to accompany it.
This time around a papaya tree in my vicinity that I have been waiting to see bear fruit finally did. It did bear a lone papaya. While craving for payar thoran, with no above-mentioned pairing to go with, I used the papaya. An unripe green papaya is what I used.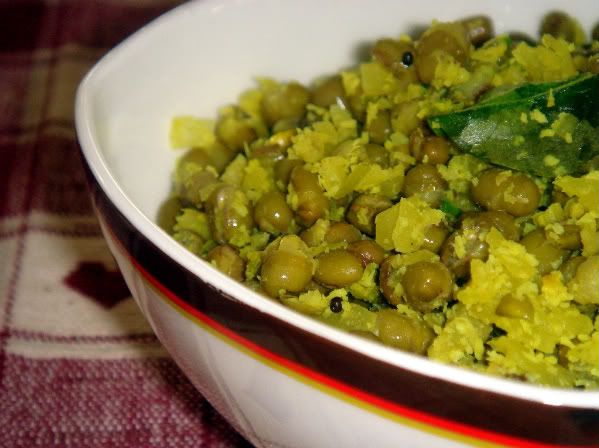 So, what you need for this thoran are:
Mung bean-1 cup, boiled

Raw Papaya (medium sized)-1 chopped
Grated Coconut-1 cup
Green Chillies-2
Garlic-1 pod
Turmeric Powder-1/4t
Mustard Seeds-1/4t
Curry Leaves- a sprig
Shallots-5 sliced thinly

Coconut Oil- 2T
Grind
coconut, green chillies, garlic and turmeric powder
.. to a coarse paste..Heat oil preferably coconut oil. Add the mustard seeds and allow it to splutter. Add the sliced shallots and fry until they soften. The coarse paste follows this. Add the chopped papaya. Add 1/4 cup of water and cover and allow the papaya to cook, which takes just 3-4 minutes. Add in the boiled mung beans and stir the mixture and cover and cook until all the moisture content evaporates. Finally do a salt check and sprinkle curry leaves and serve.
So there you go.. This thoran, white rice, and moru (curry made from yoghurt) is the ultimate comfort food. Served warm, this simple yet very tasty thoran would be so for anyone who tries this.
Since this thoran contains mung beans that belong to the Fabaceae family, this thoan makes my entry to MLLA-17 hosted by
Sra
, an event created by
Susan
.