The Daring Bakers made Vol au Vents this month. Lovely and perfect because the fillings that could be used were endless. And yes this is my 21st month with the goup and each challenge has been different from the other. So was this month's.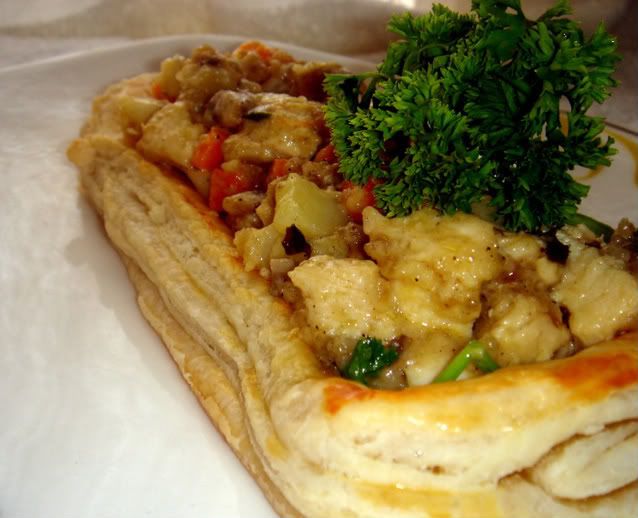 A
Vol-au-vent
(French for "windblown" to describe its lightness) is a small hollow case of puff pastry. A round opening is cut in the top and the pastry cut out for the opening is replaced as a lid after the case is filled. Vol-au-vents can accommodate various fillings, such as m
ushrooms
, prawns, fruit
or cheese, but they are almost always s
avory.
With the challenge being announced a month back, as always i sat back until the posting date until I realized yesterday that the next day was the posting date. Hence made the pastry dough last night for the first few turns , let it rest overnight before the final two turns today morning. Inspite of making the dough late night, owing to the humid weather, I had to refrigerate the dough quite a number of times as and when the butter tended to become soft.
Coming to the fillings, I chose 2 kinds. One was a chickem filling and the other an Indian cottage cheese filling. Both are rich on their own but such indulgences are always welcome to top the butter pastry shells.
Boiled chicken was cubed and coated with cornflour and egg and seasoned with pepper and salt. To some olive oil, minced garlic and ginger was added followed by chopped mushrooms, carrots, potatoes. Once these were cooked, fresh cream was added and further cooked for a thick consistency. Chopped parsley was also added.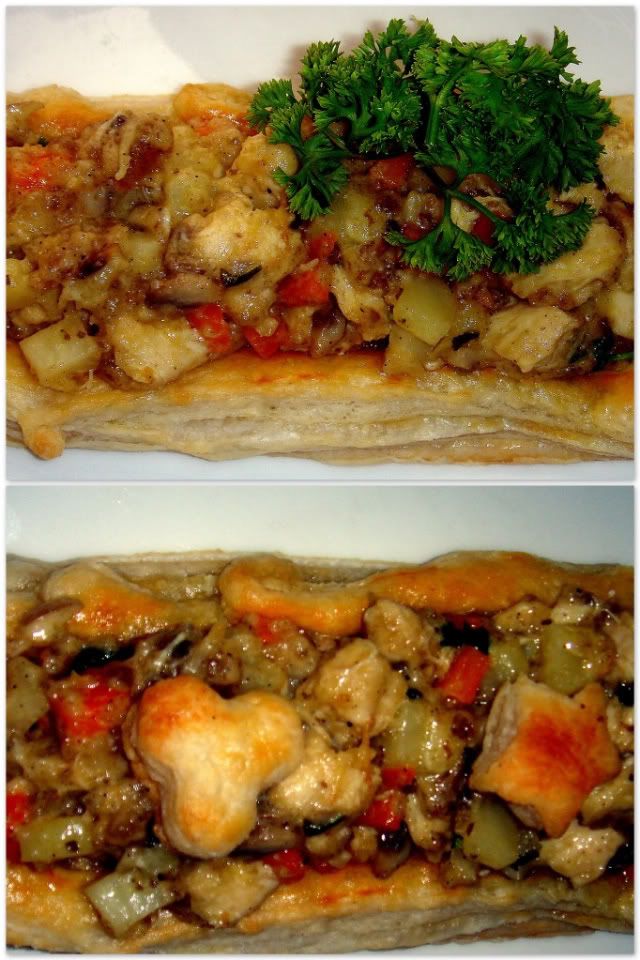 To some olive oil in a pan, chopped onions were added. these were sauteed. Chopped Spinach and grated Paneer/Indian cottage cheese were added. these were seasoned with salt and pepper followed. A T of mayo was then mixed in for a creamier filling.
The pastry is a wonderful to work with, light and flaky and very very buttery to taste.The dough was much easier to handle than the
Danish
one.Although mine didn't rise as much as the others I have seen on the forum, this did rise too. I am all for savoury fillings but there are loads of sweet and savoury wonders out
there
today, so do head over to check them out.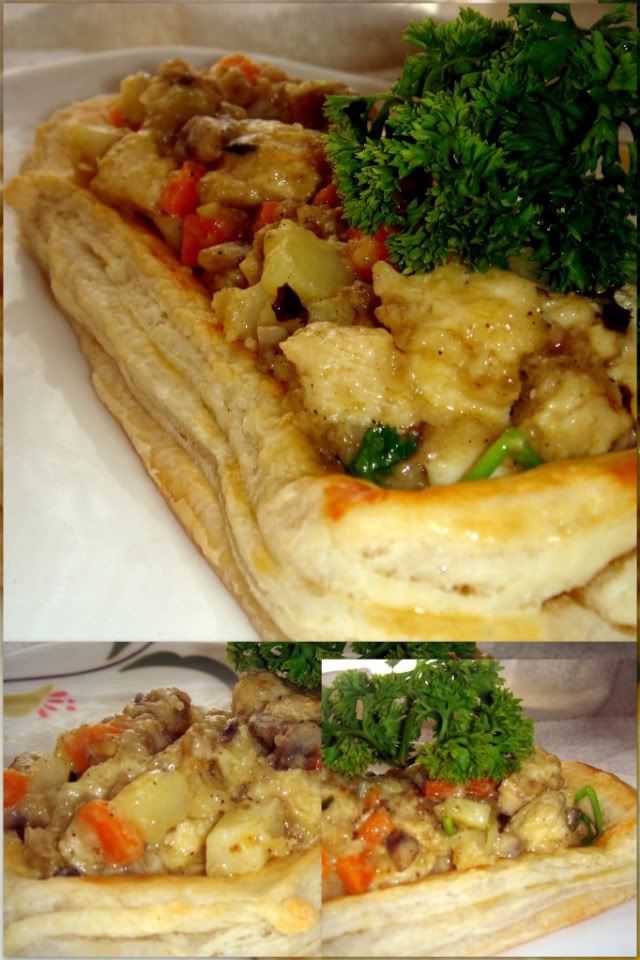 The September 2009 Daring Bakers' challenge was hosted by Steph of A Whisk and a Spoon. She chose the French treat, Vols-au-Vent based on the Puff Pastry recipe by Michel Richard from the cookbook Baking With Julia by Dorie Greenspan.