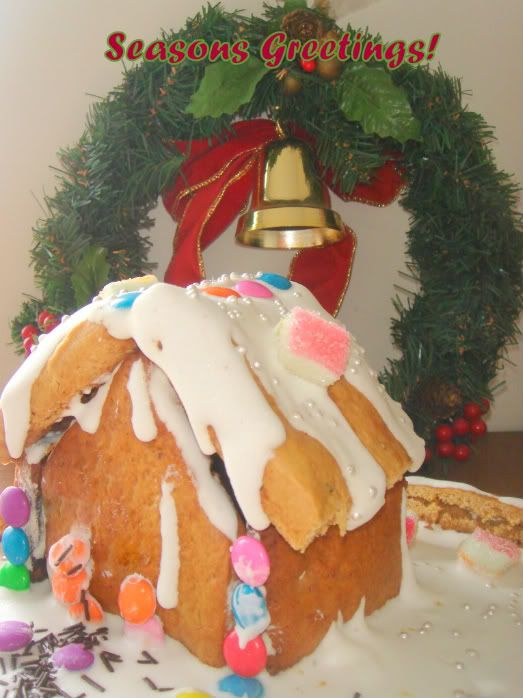 The December 2009 Daring Bakers' challenge was brought to you by Anna of Very Small Anna and Y of Lemonpi. They chose to challenge Daring Bakers' everywhere to bake and assemble a gingerbread house from scratch. They chose recipes from Good Housekeeping and from The Great Scandinavian Baking Book as the challenge recipes.
Size was not a matter but certain criteria to be considered were:



1. Everything needs to be edible - no glue or inner non-food supports allowed.

2. You must bake the gingerbread yourself, whichever recipe you choose. No graham cracker houses please!

3. You must use some sort of template. If you don't use ours, take a picture or link to what you do use in your final post. It doesn't have to be super technical - Anna didn't even measure hers, she just cut out shapes from parchment and made sure the edges matched up.

4. Your house must be able to stand on its own. If you want to go adding balconies with candy stick buttresses or whatever go right ahead, but the main house itself must be free-standing.
The Daring Bakers did Ginger bread houses in keeping with the Christmas Season. I have never made one until now but yes have seen them, read about them and so on. But this time I had my 5 year old wanting to decorate the house or rather the little cottage all by herself. Baked and constructed to size with only the dressing up to be done with an over enthusisatic toddler who wanted to handle it all by herself with no help at all...I was apprehensive if the royal icing glued pieces would withstand all the activity.
I made this cottage on Christmas eve and it still stands as it is today a day post X'mas with no one wanting to eat it although I did find odd areas with missing candies. Apart from cutting out the templates I found this challenge easy to assemble. It wasn't a daunting task as I thought it to be. I had fun actually on this challenge and it was more fun seeing my toddler enjoying decorating it although I had my fingers crossed hoping that the entire cottage wouldn't go down with all the excitement she was putting into placing the candies. And since it never snows in the part of the world we live, it definitely had to be a house robed in white snow. My toddler's happiness mattered a lot here and am glad I didn't get selfish in wanting to do intricate decorations (which by the way was my original plan) while she was asleep. Not a stunning creation but I did make a gingerbread house finally all thanks to the Daring Bakers!
Equipment Needed:
Stand or handheld electric mixer (not required but it will make mixing the dough a lot easier and faster)
Plastic wrap
Rolling pin
Parchment paper
Baking sheets
Cardboard cake board or sheet of thick cardboard
Foil, if desired
Small saucepan
Small pastry brush (optional)
Piping bag with small round tip, or paper cornets if you're comfortable with them
Anna's Recipe:
Spicy Gingerbread Dough (from Good Housekeeping) http://www.goodhousekeeping.com/recipefinder/spicy-gingerbread-dough-157...
2 1/2 cups (500g) packed dark brown sugar
1 1/2 cups (360mL) heavy cream or whipping cream
1 1/4 cups (425g) molasses
9 1/2 cups (1663g) all-purpose flour
2 tablespoon(s) baking soda
1 tablespoon(s) ground ginger
Directions
1. In very large bowl, with wire whisk (or with an electric mixer), beat brown sugar, cream, and molasses until sugar lumps dissolve and mixture is smooth. In medium bowl, combine flour, baking soda, and ginger. With spoon, stir flour mixture into cream mixture in 3 additions until dough is too stiff to stir, then knead with hands until flour is incorporated and dough is smooth.
2. Divide dough into 4 equal portions; flatten each into a disk to speed chilling. Wrap each disk well with plastic wrap and refrigerate at least 4 hours or overnight, until dough is firm enough to roll.
3. Grease and flour large cookie sheets (17-inch by 14-inch/43x36cm)
4. Roll out dough, 1 disk at a time on each cookie sheet to about 3/16-inch thickness. (Placing 3/16-inch dowels or rulers on either side of dough to use as a guide will help roll dough to uniform thickness.)
5. Trim excess dough from cookie sheet; wrap and reserve in refrigerator. Chill rolled dough on cookie sheet in refrigerator or freezer at least 10 minutes or until firm enough to cut easily.
6. Preheat oven to 300 degrees F (149C)
7. Use chilled rolled dough, floured poster board patterns, and sharp paring knife to cut all house pieces on cookie sheet, making sure to leave at least 1 1/4 inches between pieces because dough will expand slightly during baking. Wrap and reserve trimmings in refrigerator. Combine and use trimmings as necessary to complete house and other decorative pieces. Cut and bake large pieces and small pieces separately.
8. Chill for 10 minutes before baking if the dough seems really soft after you cut it. This will discourage too much spreading/warping of the shapes you cut.
9. Bake 25 to 30 minutes, until pieces are firm to the touch. Do not overbake; pieces will be too crisp to trim to proper size.
10. Remove cookie sheet from oven. While house pieces are still warm, place poster-board patterns on top and use them as guides to trim shapes to match if necessary. Cool pieces completely before attempting to assemble the house.
Y's Recipe:
Scandinavian Gingerbread (Pepparkakstuga)
from The Great Scandinavian Baking Book by Beatrice Ojakangas http://astore.amazon.com/thedarkit-20/detail/0816634963
1 cup butter, room temperature [226g]
1 cup brown sugar, well packed [220g]
2 tablespoons cinnamon
4 teaspoons ground ginger
3 teaspoons ground cloves
2 teaspoons baking soda
½ cup boiling water
5 cups all-purpose flour [875g]
1. In a large bowl, cream the butter and sugar until blended. Add the cinnamon, ginger and cloves. Mix the baking soda with the boiling water and add to the dough along with the flour. Mix to make a stiff dough. If necessary add more water, a tablespoon at a time. Chill 2 hours or overnight.
2. Cut patterns for the house, making patterns for the roof, front walls, gabled walls, chimney and door out of cardboard.
3. Roll the dough out on a large, ungreased baking sheet and place the patterns on the dough. Mark off the various pieces with a knife, but leave the pieces in place.
4. [I rolled out the dough on a floured bench, roughly 1/8 inch thick (which allows for fact that the dough puffs a little when baked), cut required shapes and transferred these to the baking sheet. Any scraps I saved and rerolled at the end.]
5. Preheat the oven to 375'F (190'C). Bake for 12 to 15 minutes until the cookie dough feels firm. After baking, again place the pattern on top of the gingerbread and trim the shapes, cutting the edges with a straight-edged knife. Leave to cool on the baking sheet.
Royal Icing:
1 large egg white
3 cups (330g) powdered sugar
1 teaspoon white vinegar
1 teaspoon almond extract
Beat all ingredients until smooth, adding the powdered sugar gradually to get the desired consistency. Pipe on pieces and allow to dry before assembling. If you aren't using it all at once you can keep it in a small bowl, loosely covered with a damp towel for a few hours until ready to use. You may have to beat it slightly to get it an even consistency if the top sets up a bit. Piped on the house, this will set up hard over time.
Simple Syrup:
2 cups (400g) sugar
Place in a small saucepan and heat until just boiling and the sugar dissolves. Dredge or brush the edges of the pieces to glue them together. If the syrup crystallizes, remake it.
Although it lacks precision it does look cute doesn't it?