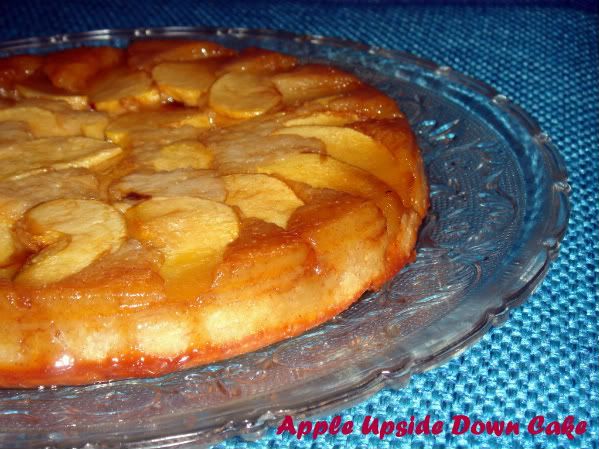 What does one do when one buys some apples and each is tasteless. And by that I mean very literally. So rather than them rotting on the counter, it is best put to use in tarts or the like. And I have done strudels, tarts, caramelized them, sauced them, spiced them for tarts, filled them in braids and croissants and muffins. What was left now... An upside down cake where I could caramelize the apples in sugar to lend the apples a role. I love the ultimate look of an upside cake as well. I can admire at their beauty even if I don't want to eat it.
Apples-about 2 peeled and sliced
Brown Sugar-1/2 C
Butter-8 T melted
Butter milk-1 cup (If there is no buttermilk, take a cup of mil, add in 1t of vinegar and set aside for 5 minutes).
Eggs-2
Sugar-1/2C
Flour-2 C
Baking Soda-1t
Salt-1/4t
Cinnamon Powder-1t
Melt 4T butter and pour into an 8" pan. Sprinkle the brown sugar on top. Arrange the apple slices and sprinkle cinnamon powder over this.
Whisk the remaining butter, buttermilk, eggs, and sugar. Sieve salt, baking soda and flour. Fold in the wet ingredients and pour the batter over the apples. Bake until done. The recipe calls for a 50 min baking time. Mine was done in 25 mins. Cool and topple on a serving plate and admire the piece of art.